Update: On June 3rd, Bill Johnson finished second in his election. James Bianco got 74.21 percent of the vote, while Johnson got 25.79 percent.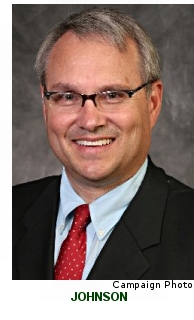 A candidate for a seat on the Los Angeles Superior Court has been identified as "pro-white". And not just as a racial populist, believing that whites should be the numerically predominant population of the United States, but as a racial nationalist, believing that whites should be the EXCLUSIVE population of the U.S. Los Angeles attorney William Daniel Johnson — running for seat #125 on the Los Angeles Superior Court as "Bill Johnson" — has been identified as a white supremacist who has advocated the deportation of non-whites from the United States. The election is scheduled for June 3rd, 2008. Full story published on the
Metropolitan News-Enterprise
website. Also discussed in the L.A. Times-affiliated
Opinion LA
blog. Johnson's official campaign website:
http://billjohnsonforjudge.com/
Those who want to acquire a better understanding of the distinctions between racial nationalism and racial populism, and how white nationalists can best react to this phenomena, can read former National Alliance Chairman Shaun Walker's essay entitled,
"Racial Populism: Can This Save Our Race"
.
Johnson, using the pseudonym James O. Pace, published a book in 1985 called "Amendment to the Constitution," proposing a federal constitutional amendment that would repeal the 14th and 15th Amendments. The portion of the 14th Amendment that conflicts with Johnson's plan is the first sentence: "
All persons born or naturalized in the United States, and subject to the jurisdiction thereof, are citizens of the United States and of the State wherein they reside
." The two-sentence 15th Amendment provides, chiefly: "
The right of citizens of the United States to vote shall not be denied or abridged by the United States or by any State on account of race, color, or previous condition of servitude
."
The "Pace Amendment" would add this verbiage: "
No person shall be a citizen of the United States unless he is a non-Hispanic white of the European race, in whom there is no ascertainable trace of Negro blood, nor more than one-eighth Mongolian, Asian, Asia Minor, Middle Eastern, Semitic, Near Eastern, American Indian, Malay or other non-European or non-white blood, provided that Hispanic whites, defined as anyone with an Hispanic ancestor, may be citizens if, in addition to meeting the aforesaid ascertainable trace and percentage tests, they are in appearance indistinguishable from Americans whose ancestral home is in the British Isles or Northwestern Europe. Only citizens shall have the right and privilege to reside permanently in the United States
."
As Johnson's plan is summarized by James A. Aho in his 1990 book "The Politics of Righteousness":
Only bonafide, certified citizens will be permitted permanent residency in the United States. All others shall be compulsorily deported "in a manner economically beneficial to them" to their native lands. Although this will involve tens of millions of American residents, and is to be accomplished in a single year, Pace assures us that deportation will be "fair" and "minimally painless." Money now "wasted" on federal welfare and public education programs can be budgeted for moving allowances and the leasing of mass transportation facilities.

Those who so wish may keep title to their property in absentia, at least temporarily. But failure to comply with repatriation will automatically result in its confiscation. Further enforcement procedures are not specified. On the whole, the author is optimistic that if the carrot of allowances is beguiling enough, bloodshed should be minimal. To this end, precautions will be undertaken to ensure that "the enforcers do not become over-zealous in their duties."

American Indians, Aleuts, and Hawaiians, although not real citizens, will not face relocation, but will be maintained in "tribal reservations" analogous to the arrangement in South Africa. Those whose age precludes easy relocation and others who can demonstrate extraordinary hardship may apply for provisional privileges to maintain their present domicile. But since such conditions are always subject to abuse, these should be observed only in the "most extreme" cases.
This is quite similar in concept to the "Humanitarian Relocation" plan espoused by national socialist Presidential candidate
John Taylor Bowles
.
Johnson has previously run for elective office. On April 28, 1989, Johnson, then a resident of Casper, Wyoming, qualified as a candidate in a special election in Wyoming for a seat in the U.S. House of Representatives. That seat was being vacated by now-Vice President Dick Cheney when he resigned to become secretary of defense. Johnson ended up receiving about one-third of one percent of the vote,
In 2006, Johnson again sought a congressional seat, this time in Arizona. Billing himself as "a traditional democrat — embracing the views and policies at the historical core of the party," he competed with five others for the Democratic Party nomination, coming in a weak fifth. His call for upstepped efforts to send Mexicans back to Mexico, when they had entered the United States illegally, taken by itself was hardly a radical stance. It was a contrast to his earlier extremist position that all "Hispanic whites" should, through a constitutional amendment, be deported unless "they are in appearance indistinguishable from Americans whose ancestral home is in the British Isles or Northwestern Europe." Johnson's activities in connection with the Pace Amendment did not come to light during that campaign. More about his 2006 campaign
HERE
.
Johnson's campaign manager in the present campaign is Holly Clearman, who is also state coordinator for the Ron Paul for President campaign. That effort is ongoing, notwithstanding that Paul, a Republican member of the U.S. House of Representatives from Texas, is out of the running for his party's nomination, with U.S. Sen. John McCain of Arizona having cinched it. Johnson, 53, is running his campaign in tandem with the pro-Paul drive, and his campaign is being promoted by a
Ron Paul Meetup Group
.
Yet for some reason, Bill Johnson seems to be discouraging media coverage. Although he made two appointments to meet with the editorial board of this newspaper and a reporter, he cancelled on the morning of each appointment. He's declined to allow a MetNews photographer to go to his office to take his picture.
The Los Angeles Times has also been denied an audience by the office-seeker. He has refused to meet with its editorial board and did not return a phone call seeking comment on his involvement in circulating petitions which caused six Hispanic-surname judges of the Los Angeles Superior Court to go on the ballot so that write-in campaigns could be launched against them.
The candidate also chose not to meet with the Los Angeles County Bar Association's Judicial Election Evaluations Committee, or send it any materials.
Johnson's campaign, so far, has consisted of posting placards on fences and other structures throughout the county. They've been spray-painted at "meetups" at his La Canada Flintridge home, organized in tandem with the Ron Paul crusade. He has filed a form with the Office of Registrar-Recorder saying he doesn't plan on spending more than $1,000. Johnson is opposed by Los Angeles Superior Court Commissioner James Bianco, who's described in the
same Metropolitan News article
.
Formal Legal Training
: Johnson was licensed to practice in California in 1981, Colorado in 1990, and in Arizona in 2006. He has an undergraduate degree from Brigham Young University in Utah (where he majored in Japanese), in addition to his law degree from Columbia.