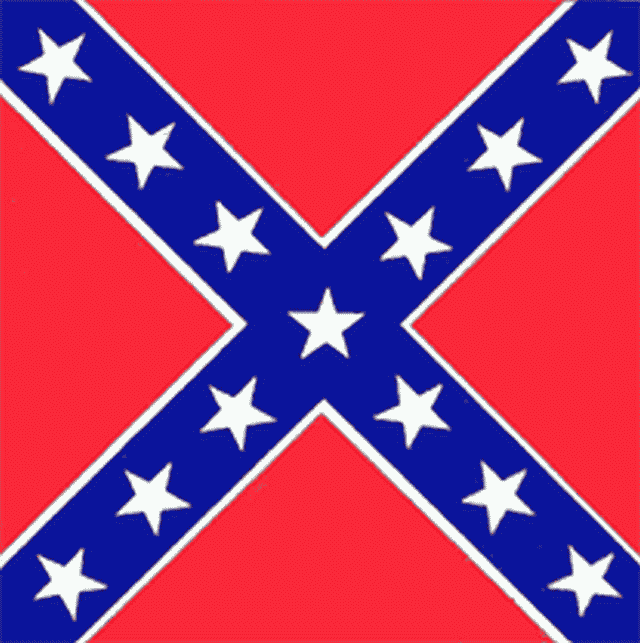 A long-simmering issue over personal displays of the Confederate flag at Santa Rosa's
Maria Carrillo High School
has escalated into a petition drive and some calls for a brief protest walkout on Friday January 18th, 2008. Full story published in the
Santa Rosa Press-Democrat
.
Some students want the school administration to ban the Confederate battle flag outright, even if its presence is mainly limited at this point to small decals, belt buckles or cell phone screens kept by a small number of students.
Senior Megan Allen said she's gotten about 300 of the school's roughly 1,500 students and about 20 teachers to sign her petition calling for school officials to ban the flag on campus, saying tolerance for what many consider a symbol of slavery and oppression is a disgrace. "
The Confederate flag, as well as other symbols such as the Nazi swastika, could be considered pride in one's heritage . . . but their underlying theme is hate
," the petition states. "
Those who display them, know it . . . and those who see them, feel it
."
School officials say the flag's presence -- as long as it doesn't cause a major disruption to school operations or incite a clear risk of unlawful acts -- is protected by the First Amendment, however unpopular it may be symbolically. "
Obviously, in a school of 1,500 students, you have students who have opinions on all sorts of things, as you would on any campus of that size
," Maria Carrillo Principal Mark Klick said.
School administrators have confronted the issue once or twice in the past. But when a student newspaper story about the display of the Confederate flag on campus last month included an account of an incident in which one of the school's few black students had a makeshift noose flung at his feet, a controversy suddenly bloomed. The autumn noose incident appears to be completely unrelated to the small group of students who embrace the Confederate flag, though neither the student at whom it was aimed nor school administrators have been able to determine who was responsible.
The students with an interest in the Confederate symbol insist they aren't racist but proud of family links to the South, though just what the flag means to them, those interviewed couldn't say. "
It's our heritage
," one such student said during a recent lunch break, explaining that he has at least one hanging in his room at home. "
Everything's offensive to somebody
."
"
If they're thinking that we're going to form a Nazi group, they're wrong
," said senior Zack Zanolini, dressed in a camouflage jacket with a .22-caliber bullet and cartridge around his neck. "
It ain't like that
."
Many students said the issue has been blown out of proportion by the campus newspaper and ensuing discussions, and that Friday's planned 10:20 a.m. walkout -- to the school softball diamond -- had little traction. The flags have been less obvious recently than they were earlier in the school year, they said, when several vehicles in the parking lots flew flags or otherwise bore the image.
One black student said he doesn't like the flag or what it stands for, and said he doesn't buy the "heritage" argument. But the student, sophomore Jeremy Thompson, said he has friends who like it, and he knows it doesn't mean they'd actually target someone.
"
The flag only has as much meaning as you give it, so you have to see both sides
," said Alexis Mijares, 15. "
I think they're taking it too far
," she said of those supporting the walkout. "
The more attention they give it, the bigger of an issue it is
."
Renelle McCall, who wrote the December 13th story about the flags in the Puma Prensa, said she was interviewing students for that story when she questioned a young black man who told her about having the noose thrown at his feet. Reading it in the school newspaper was the first school administrators had heard of the incident, though the freshman boy had told his mother and a school counselor perhaps a month earlier at a counseling session. The student declined to be interviewed for this story.
Some students and teachers are sensitive to past campus incidents suggesting intolerance in a community of predominantly white students, with few minorities and just a handful of blacks. "
If we have a hostile environment for even one student, then we need to rethink the policy
," said English instructor Brigette Mansell, who spent much of the week overseeing a series of student assemblies featuring speeches and presentations honoring Martin Luther King Jr.
Mansell and Pam Devlin, one-time school principal and now an English and film study teacher, also noted the claim staked by white supremacist groups to the Confederate flag. Both are among a group of signatories to a staff letter opposing its presence on campus, they said.
Commentary
: What's astounding is that most of these 300 insurgents are probably white. According to
Zipskinny.com
, the racial breakdown for Maria Carrillo High School is 77.3% White, 9.3% Hispanic, 5.9% Asian, and 1.2% Black. So we obviously have a group of self-hating deracinated whites who've been thoroughly steeped in anti-racist propaganda. Anti-racism is not against all racism, only so-called "white racism". The premise behind anti-racist doctrine is that whites are presumed to be inherently racist and can never escape that designation regardless of what they say or do because they have a history of "oppression", while non-whites are presumed to be incapable of racism because they are presumed to have been always "oppressed".
This is far worse hatred than that represented by the Confederate battle flag. But what about other symbols, like the rainbow flag, for example? The rainbow flag has been hijacked by the homosexual lobby. Homosexuality involves some of the most disgusting and degrading practices known to humankind, and is a proven gateway to pedophilia and other sorts of abusive behavior. Yet they are not deploying petitions to outlaw the rainbow flag.
Public comments appended to the newspaper story indicate that only a small minority of respondents support the insurgents. Most importantly, Maria Carrillo High School has a principal who understands and supports the First Amendment. This should quash this insurgency.
However, not all school officials share that same regard for the First Amendment. On January 16th, the
Eureka Reporter
reported on a Confederate flag incident at Ferndale High School in Ferndale, CA, where the principal confiscated a student's Confederate flag from his vehicle and refused to return it.