Second special update posted on June 12th, 2007, in

green

. Final rally plans set forth
.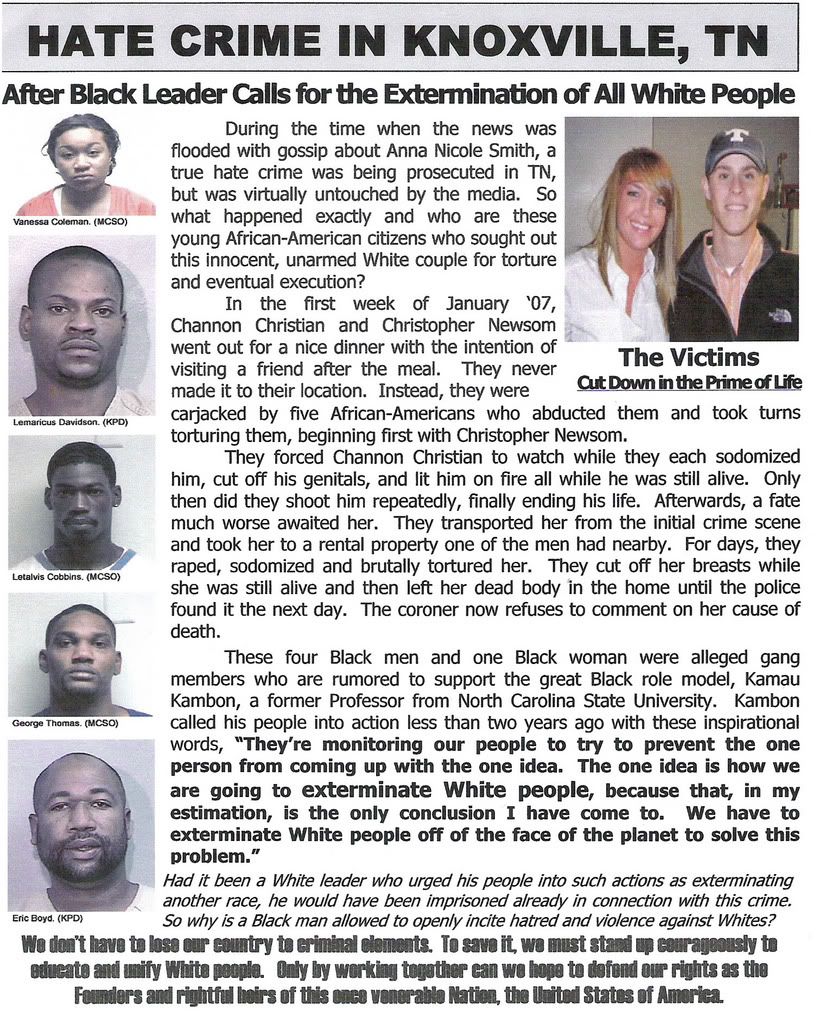 Because
my previous post on the proposed June 16th follow-up or "second-wave" rally
was presented not only within the context of the Vanguard News Network's May 26th rally, but also contained a discussion on some "movement drama", I decided it was more appropriate to generate a completely new post on this event, to be more information-oriented. Stormfront also wants to make it clear that while they will promote this rally, they are not "officially" sponsoring it. You can also monitor two different Stormfront discussion threads on this rally,
HERE
and
HERE
, for up-to-the-minute changes.
According to Glenn Miller
of the Vanguard News Network, Dr. Ed Fields, the editor of The Truth At Last newspaper, will attend the June 16th rally, and is distributing a flyer describing the details. Dr Fields has also mailed written invitations to around 10,000 WNs on his mailing list, and he and other organizers are going all out to advertise this protest demonstration, encouraging Klan groups, other WN groups including C.C.C. (Council of Conservative Citizens), and the white public in and around Knoxville to attend. IT WILL BE HUGE !!!
No link to this flyer has been found yet (which is why I've posted a substitute flyer above), but according to Miller, here is the text:
Stand up for Justice for Channon Christian and Christopher Newsom.

WHITE PROTEST RALLY

DATE: Saturday, June 16th
TIME: 1 PM (EST)
LOCATION: Knox County Court House Steps, Knoxville, TN

1) We demand that the media report all the facts on the torture-murder of this innocent young White couple.

2) We demand that it be officially declared a "hate crime"

3) We demand that the national media give this case the same publicity they gave the Duke University Lacrosse team case."

Speakers: Dr Ed Fields and Ken Gregg

Sponsored by: Christian Identity Mission, PO Box 14083, Knoxville, TN 37914 - PHONE: 865-397-3200

Click HERE for street map showing the area surrounding the Court House at 400 West Main Street.

Pastor Gregg encourages those desiring more information to contact him at the following e-mail address: jewskillchrist@yahoo.com (note - if this e-mail address doesn't work, use the phone number).

Click HERE to visit the Channon Christian website.

This is just the main "bang", so to speak. Original plans by Pastor Ken Gregg were for a three-day event from June 15th through June 17th. In addition, the main rally on June 16th was to be preceded by protests at various Knoxville media outlets. As early as 10 A.M., participants intended to simultaneously assemble at WATE-TV Channel 6 on 1306 N. Broadway St, WVLT-TV Channel 8 on 6516 Papermill Drive, WBIR-TV Channel 10 at 1513 Hutchinson Avenue, and at the Knoxville News-Sentinel facilities on 2332 News Sentinel Drive to protest the initial media coverage blackout, then reconstitute at the Court House by 1 P.M. The new flyer does not address these preliminary events, so I assume they are still happening. However, they may be sacrificed if not enough people show up. The Main Rally at 1 P.M. will take place regardless.

Update: On June 12th, Alex Linder talked to Pastor Gregg, who informed him of the latest plans:

1). Picket at WATE-TV Channel 6 at 9 A.M.

2). Picket at Knoxville News-Sentinel at 10 A.M.

3). Assemble at Knoxville Police Department parking lot at 12 Noon.

4). Rally on courthouse steps from 1 P.M. til 3 P.M.

Participants are asked to wear a white shirt or blouse in commemoration of the victims. Rally planners discourage shorts and flip-flops, and you can just imagine how they might react to a uniform or a swastika. Forewarned is forearmed.

It is also recommended that participants do NOT patronize the Riverside Tavern in Knoxville. They evicted eight ralliers from their premises after the May 26th rally simply because they were pro-white; there was no substantiated misbehavior.

Here is an ethnic map of Knoxville to help those contemplating attendance make a decision as to what part of town NOT to stay in:




To orient you:

1). Look for the junction of I-40 (blue) and U.S. Hwy 441 (red).

2). Area of rally immediately to the south of the junction.

3). Avoid lodging or parking your vehicle in the grey area to the east.

4). Refer to accompanying legend to decode color codes.

I strongly urge anyone who can to attend this rally. In particular, I urge my fellow VNN'ers to set negative feelings about Stormfront aside and show up. Forget Jack Boot! Forget John Joy Tree! This is our race we're talking about. Isn't our race

more important than our egos? We got 100 on May 26th - we can easily get 500 on June 16th. If I could get off work, I'd fly down from Alaska - it would be worth every penny of that plane ticket. Let's ROCK Knoxville on June 16th!!! And those of you who can't attend, PROMOTE this rally on every forum and blog where permitted, including Phxnews.com and the various Topix forums.